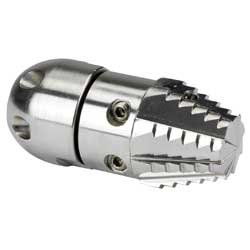 DISCLAIMER: Please note product image is for display purposes only and may not be a true reflection of the product supplied.
1″ Female 70 Rotating Drain Nozzle 25.1249.70
£356.55 £427.86 inc vat
Description
1″ Female 70 Rotating Drain Nozzle 25.1249.70
25124970
Stainless Steel Drain Jet – Jetting Nozzle
Manufactured in 420B Stainless Steel, tempered & hardened to HRC55.
Head has 6 Rear facing jets for thrust & 2 for rotation.
Jets are replaceable & made in Stainless Steel.
Head rotates in anti-clockwise direction.
All item descriptions and illustrations are provided in good faith and are intended for guidance only and the actual items may vary
Malcleanse – HOME of Pressure Washer Drain Nozzles also called Sewer Nozzles for Jetting Equipment – Pressure Washing Machines – Pressure Washers – High Pressure Drain Nozzles / Sewer Nozzles used with drain jetting equipment – Drain Jetting Nozzle – Sewer Jet – Rotary Sewer Jetting Nozzle.
---