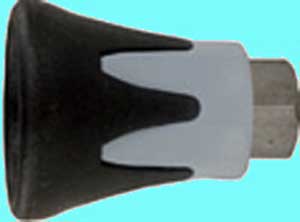 DISCLAIMER: Please note product image is for display purposes only and may not be a true reflection of the product supplied.
1/4″ F x 1/4″ F Grey Nozzle Holder NH1414GY
£5.64 £6.77 inc vat
Description
1/4″ F x 1/4″ F Grey Nozzle Holder NH1414GY
200010530
Inlet – 1/4″ Female
Outlet – 1/4″ Female
Max Pressure – 400 Bar
Zinc Plated
Use this Nozzle Holder for 1/4″ Male Threaded Nozzles
The ST-10 Nozzle Holder is the ideal combination made out of hard and soft plastics. – The nozzle holder is for cold and hot wash pressure washers.
All item descriptions and illustrations are provided in good faith and are intended for guidance only and the actual items may vary
Malcleanse –

HOME of Nozzle Holders for use with Hot and Cold water pressure washers, pressure washing equipment – Nozzle Holder for Jet wash and Jetting machines.