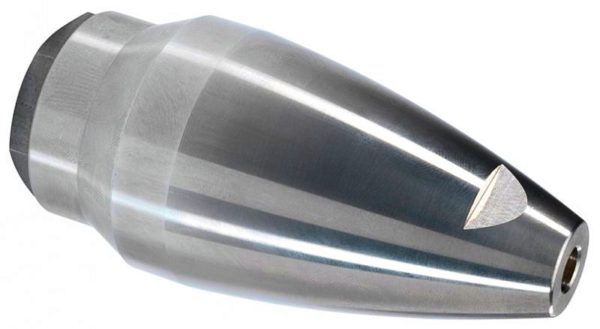 DISCLAIMER: Please note product image is for display purposes only and may not be a true reflection of the product supplied.
500 Bar Size 035 1/4″ Female Turbo Nozzle TN500035
£460.46 £552.55 inc vat
Description
500 Bar Size 035 1/4″ Female Turbo Nozzle TN500035
0204006805
For use with pressure washers upto 500 Bar
500 Bar max pressure
90°C max temperature
035 nozzle
Rotating nozzle head
Fixed pressure
Tungsten carbide nozzle
Stainless steel body
1/4″BSPF inlet
The spinning jet of the turbo nozzle gives a great cleaning power.
Rotating nozzles use centrifugal force to produce a strong impact and a spray pattern.
Due to the reliability and effectiveness rotary turbo nozzles have been widely accepted.
The nozzle rotates a powerful, zero degree spray pattern in a circular motion to break down tough dirt and grime.
With a rotating nozzle, you can clean the following types of applications;-Rust removal, metal or plastic tank cleaning, paint removal and graffiti removal, wall paint stripping, washing concrete, eliminating gum from sidewalks, boat cleaning and barnacle removal, asbestos abatement, cleaning crab and lobster pots, fish nets, cleaning dirty garage floors, stripping paint from wood exterior, and removing mud and clay from highway and construction equipment.
Rotojet Rotary Turbo Nozzle
Not sure of which size you need – See Nozzle Size Chart
All item descriptions and illustrations are provided in good faith and are intended for guidance only and the actual items may vary