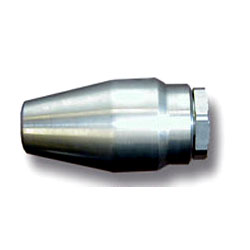 DISCLAIMER: Please note product image is for display purposes only and may not be a true reflection of the product supplied.
700 Bar Size 045 1/4″ Female Turbo Nozzle TN700045
£1,072.96 £1,287.55 inc vat
Description
700 Bar Size 045 1/4″ Female Turbo Nozzle TN700045
655700545
For use with pressure washers upto 700 Bar
Nozzle Size – 045
Inlet Connection – 1/4″ Female
Max Rated Pressure – 700 Bar
Max Rated Temperature – 100C
The spinning jet of the turbo nozzle gives a great cleaning power.
Rotating nozzles use centrifugal force to produce a strong impact and a spray pattern.
Due to the reliability and effectiveness rotary turbo nozzles have been widely accepted.
The nozzle rotates a powerful, zero degree spray pattern in a circular motion to break down tough dirt and grime.
All item descriptions and illustrations are provided in good faith and are intended for guidance only and the actual items may vary
Malcleanse –

HOME of Pressure Washers – Suttner 700 Bar Turbo Nozzles also called Rotary Nozzles and Rotating Nozzles for Jetting Equipment – Pressure Washing Machines – Pressure Washers – High Pressure Nozzles for many uses within the cleaning industry.