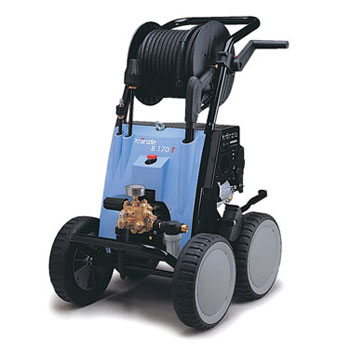 DISCLAIMER: Please note product image is for display purposes only and may not be a true reflection of the product supplied.
Kranzle 180 Bar 12.5 lpm Petrol Pressure Washer B200T
£2,441.47 £2,929.76 inc vat
Description
Kranzle 180 Bar 12.5 lpm Petrol Pressure Washer B200T
KRANZLE – B200T – K411911
FREE Delivery to UK Mainland (excluding Highlands & Islands)
Operating Pressure – 180 Bar
Flow 12.5 lpm
Nozzle Size – 05
Pump Speed – 1800 rpm
Power Supply – Petrol Honda 6.5 hp Engine
Weight – 58 kg
Size – (L X W X H) – 720 X 570 X 960
Supplied with –
20m High Pressure Hose
Gun & Standard Lance + Nozzle + TURBO LANCE + REEL
Kranzle Pressure Washer – pdf file of Spare Parts – click here
Kranzle Pump Video – click here
Chemical/detergent system optional extra
Honda 4 stroke petrol engine
Automatic throttle control from trigger gun
Low sump oil engine cut off safety device
Motor size 6.5 HP The heavy duty Kranzle pump is directly driven by the shaft of the motor which on this model of Honda has a maximum rotation of 1800 rpm. The advantages of this are two fold. Firstly, there is no need for a reduction gear box which reduces efficiency and is a potential maintenance problem in years to come. Secondly, because the pump is not having to operate at a high speed it is able to self prime and draw water from a tank. A large water inlet filter is fitted as standard.
Very high pressure heavy, duty machine with automatic engine speed control makes this the right choice for heavily demanding work. Brass pump head, ceramic coated pistons and stainless steel valves. Superb in design and quality. These petrol engined pressure washers are made for commercial use. They are built to a very high specification and include 20 metres (over 65 feet) of long life high pressure hose, heavy duty gun and lance plus the special Turbo lance accessory. This accessory effectively doubles the impact pressure of the spray into a very powerful and aggressive jet of water quite capable of removing paint from metal or stone surfaces.
All models have a low oil safety feature that cuts the ignition on the engine should the oil level fall below minimum.These machines will run quite happily for many hours at a time.
All item descriptions and illustrations are provided in good faith and are intended for guidance only and the actual items may vary
Malcleanse – 

The HOME of Pressure Washers & Pressure Washing Spares – Jet Washers, Pressure Washing Equipment & Pressure Washer Spares & Fittings. Oertzen water jetting equipment – Interpump pumps – Kranzle Pressure washers – Speck pump spares – Pratissoli High Pressure Pumps  & Spares  – Pressure washer accessories – Pressure Nozzles, High Pressure Hose, Drain Nozzles & Surface Cleaners
---