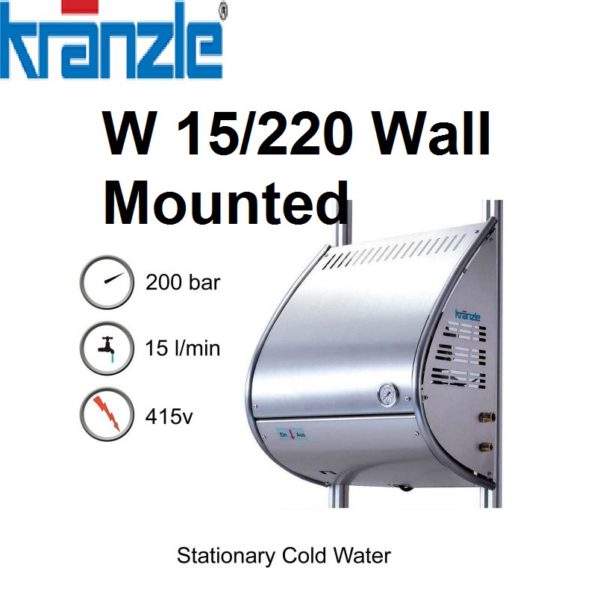 DISCLAIMER: Please note product image is for display purposes only and may not be a true reflection of the product supplied.
Kranzle 220 Bar 15 lpm 3 Phase Electric Pressure Washer W15220
£3,807.94 £4,569.53 inc vat
Description
Kranzle 220 Bar 15 lpm 3 Phase Electric Pressure Washer W15220
The Wall Mounted Stainless Steel Static models are an excellent advancement of design, representing continued development to the well proven series. These machines are modern looking in design and benefit from top quality German engineered robustness…Some of the added benefits to the series because of new processes and advancements in technology available include: Suitable for commercial or industrial use
Housing made of stainless steel
Coin checking device and remote control for various cleaning programs (optional extra)
Optionally available with flow monitor and direct connection to the water mains (2 – 8 bar) without water tank
with water tank and connection of water mains (2 – 5 bar) to water tank (optional extra)
Detergent options available
Automatic hose reel for up to 28m steel braided high pressure hose (optional extra)
Operating pressure bar (MPa): 30-220 (3-22)
Max admissible overpressure bar (MPa): 250 (25)
Water output l/min (l/h): 15 (900)
Inlet water temperature max °C: 60
Connected load V / A / Hz: 400 / 12 / 50
Dimensions (L x W x H) in mm: 780 x 700 x 360
Features & Equipment:
Total-Stop system with delayed motor cut-out
Additional electrical over-current protection
Starlet trigger gun with safety catch
Stainless steel lance with regulating nozzle
41309, 41309.0, 41.309.
All item descriptions and illustrations are provided in good faith and are intended for guidance only and the actual items may vary
#P250#F15#S1500#EPW3PH
---