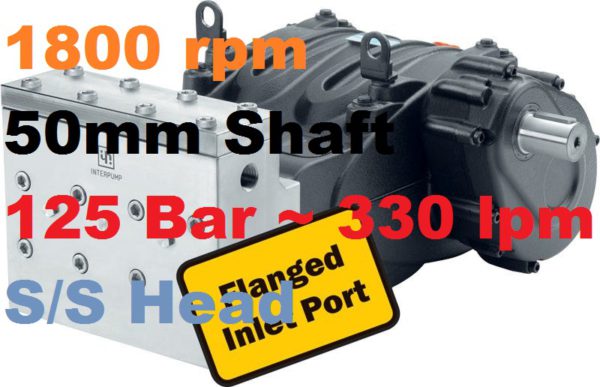 DISCLAIMER: Please note product image is for display purposes only and may not be a true reflection of the product supplied.
Pratissoli 125 Bar 330 lpm Pressure Pump MWN50-GB18
£28,154.60 £33,785.52 inc vat
Description
Pratissoli 125 Bar 330 lpm Pressure Pump MWN50-GB18
MWN50GB18
Pratissoli Plunger Pump – Series MWN
Gearbox can be mounted LEFT or RIGHT & in 5 Positions from horizontal axis.
All Orders over £100.00 (net) – Carriage FREE to Mainland UK (Excluding Highlands & Islands)
See – "Related Products"
Pratissoli High Pressure Plunger Pump
Duplex ASTM F51 Stainless Steel Manifold
125 Bar
330 Lpm
1800 Rpm gearbox
107 Hp, 79 kW
50mm male shaft
Stainless steel block style manifold
2.238:1 reduction gearbox
60°C max water temperature
66mm flanged inlet port
1″1/4BSP female outlet
See "Technical Data" for port options
Call sales office for installation advice
All item descriptions and illustrations are provided in good faith and are intended for guidance only and the actual items may vary
Malcolm Smith Power Cleaning / Malcleanse –

HOME of Pratissoli Industrial High Pressure Pumps – Pratissoli Plunger Pumps –  Industrial Pumps – Pratissoli Pressure Washer Pumps – Pratissoli Jet Washing Pumps  – Replacement Pratissoli Pumps MWN Series High Pressure Industrial Pumps.
---