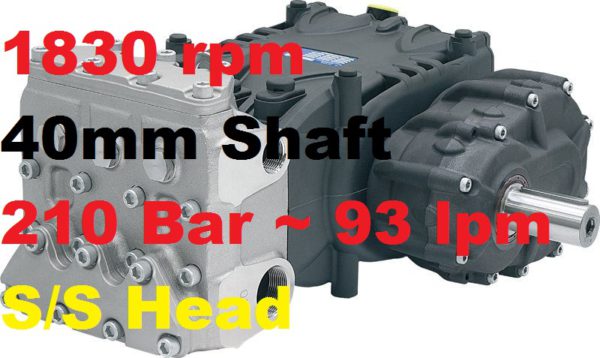 DISCLAIMER: Please note product image is for display purposes only and may not be a true reflection of the product supplied.
Pratissoli 210 Bar 93 lpm Pressure Pump KF28-GB18
£4,966.98 £5,960.38 inc vat
Description
Pratissoli 210 Bar 93 lpm Pressure Pump KF28-GB18
KF28GB18
Pratissoli Plunger Pump – Series KF-GB
Gearbox can be mounted LEFT or RIGHT & in 4 Positions from horizontal axis.
All Orders over £100.00 (net) – Carriage FREE to Mainland UK (Excluding Highlands & Islands)
See – "Related Products"
Pratissoli High Pressure Plunger Pump
Nickel Plated Stainless Steel Manifold
Max Flow – 93 lpm
Power Required – 50 hp
Speed –
1830 rpm
Inlet – 1 1/2″ BSP Female
All item descriptions and illustrations are provided in good faith and are intended for guidance only and the actual items may vary
#P250#F110#S1900#D40M
#P250#F110#S/S
Malcolm Smith Power Cleaning / Malcleanse – HOME of Pratissoli Industrial High Pressure Pratissoli Plunger Pumps –  Industrial Pumps – Pratissoli Pressure Washer Pumps – Pratissoli Jet Washing Pumps  – Replacement Pratissoli Pumps KF Series High Pressure Industrial Pumps.
---